Blake Griffin hurdled over a Kia Optima nearly a week ago in Los Angeles.
Kevin Garnett slapped a square Band-Aid on his head after being elbowed by Pau Gasol.
Griffin occupies 90 percent of the Clippers highlight reel, adding extra perspiration to the soaked shirt of Vinny Del Negro.
Garnett is passionate, but never willing to pass up an open look…please take notes, LeBron James.
I guess my teachers were right: everybody really is different.
On Saturday, the Celtics completed Game 3 of their four-game Western trip against the Clippers in Los Angeles.
I originally sat down to witness the debut of the so-called "offensive savior" Jeff Green, but was struck with a quirky comparison from the announcers.
Previously, I'd never even thought of comparing Garnett to Griffin.  I, like everybody else, wrote them off as two talented power forwards, who happened to share a last name that starts with the letter "G," along with a distinct love for knee injuries after descending from the rim.
But apparently, I have been blissfully unaware of the comparison going on around me.
It was midway through the second quarter when the words "Griffin" and "Garnett" were being used in the same sentence.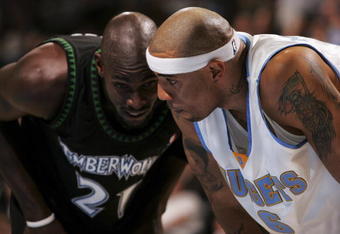 Doug Pensinger/Getty Images
Statistics were flying like apples in a school cafeteria fight, while the rookie seasons of both Garnett and Griffin were being discussed to wits' end.
I think you'll find that the two are totally different.
Kevin Garnett's Rookie Season Was Much Harder in 1995
If you are taking Griffin's side in this wacky debate, please make sure you have taken on board the circumstances in which Garnett played his rookie season, because it wasn't the casual big smoke transition most stars are accustomed to.
1. Garnett Was Fresh Out of High School
Unlike Griffin, Garnett was a standout from Farragut Career Academy in Chicago, making a fresh transition to the NBA.
He was voted the Most Outstanding Player at the McDonald's All-American Game, but was thrown right into the deep end of the struggling Minnesota Timberwolves.
The award only tells part of the story, though.  Garnett's rookie season became 12 years of straight sacrifice, although it is my honest opinion that if Garnett was to enroll in college, he may well have wound up elsewhere instead of Minnesota.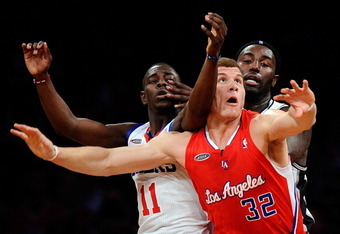 Kevork Djansezian/Getty Images
2. Garnett Entered Minnesota During a Transition Phase
Minnesota was far from a welcoming platform for any aspiring rookie.  Coach Bill Blair had been replaced with Flip Saunders, while Garnett found himself warming the wood until the new coach asserted his authority after taking over.
Garnett averaged 10.4 points per game and 6.3 rebounds, Griffin currently averages 22.8 points and 12.5 rebounds.
Still, those same statistics can easily be blown out of proportion, considering Garnett stepped into a team full of potential All-Stars, who still managed to resemble an out-of-sorts middle school squad, while Griffin has been handed the ball and told to do work.
3. Griffin's Defense Struggles to Match Garnett's
I am often found hard up for words when someone attempts to throw the "Blake is just a rookie, and doesn't know defense" excuse at me, mainly due to the fact that Griffin was one of Oklahoma's biggest stars two years ago.
How does a big man like Griffin fail to get downcourt?  And if slow feet are somehow an issue, how can he jump over a luxury automobile in his own arena?  If you have an answer, please tell me, because Garnett wins this debate for the time being.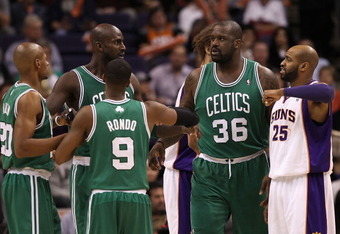 Christian Petersen/Getty Images
In his heyday, Garnett's size was always overlooked.  Don't ask me how a near-seven-foot bald man goes unnoticed, but his leaping ability was as questionable as Charlie Sheen's rehab methods early on in his career.
Since joining the Celtics, though, Garnett's defense has improved, mainly due to the fact that he isn't tossing shots up every minute offensively, and instead has time to get down the other end before a play is made.
Griffin's defense remains present, but there is a fine layer of nothingness between good and great.  On Saturday, Garnett manhandled Griffin with tricks, blocks and above all else, shots, leaving Griffin to touch on the lesson he learned.
"It was a tough matchup," Griffin stated.  "He's a good defensive player, but I think for me it's just upon me to take this and learn from it.  A player like him has his tricks.
"Being a rookie, you're not going to get any calls like that.  So over time, that's something that will go away."
It's a lesson that will evolve over time, but let's face it, the age of defense is slowly dying as the likes of Garnett and others prepare for inevitable retirement.  Griffin's scoring is great—a defensive mind like Dirk Nowitzki would be even better.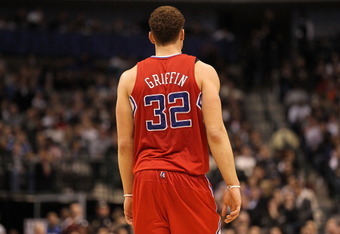 Ronald Martinez/Getty Images
4. Garnett Can Shoot, Griffin Can't…Yet.
I've become used to dunk reels from Kobe Bryant, King James and even Kevin Durant, but the one thing that separates these three from Griffin is the fact that they can actually shoot in a pressure situation.
Review some tape if you wish, and I'm sure you'll find many instances where Griffin has knocked down a jumper.  Every big man normally attempts a wide-open look, but no one can flick the switch like Garnett (please don't take offense, Ray Allen).
Until Griffin can peel one up and over defenders, land a long shot and fade away from his man, he will always be the guy who jumped over a car, but missed the game-winning shot when that situation arises.
Garnett's hot hand didn't appear overnight, nor did it arrive on a freight train labeled "luck."  It has however, earned him a ring, something that Griffin will struggle to see should he miss from the field.
Conclusion
Compare Griffin to whoever you want, chances are he will overcome his expectations one day.  People have compared him to Charles Barkley, Karl Malone and even Shawn Kemp, but Garnett is a story for a distant time ahead.
The two may be as different as milk and juice in all reality.  I've been watching Garnett for years, while Griffin is the NBA's new hero, appealing to a younger audience while a so-called dirty KG is respected by the old-school fans.
Garnett's paid his dues, and although his rookie year may be outdon
e by Griffin sometime soon, the two are still light years apart.  Griffin has an abundance of time to catch Garnett, but let's lay off on the comparisons for the time being.
If you enjoyed this article, Get email updates
(It's Free)